Gili Meno, the middle island, the smallest of the three Gili's and it is the quietest with fewer tourists. A great escape for honeymooners or someone who wants to get away from it all.
Gili Meno has the lovely distinction as the least touristy Gili Island. It's the smallest of the Gilis and the crowds flocking to Gili Trawangan and Gili Air haven't quite made their way over to this middle island so far.
It's the perfect getaway spot for honeymooners, families, and people who are looking for a genuine beach-side retreat. The accommodation, dining, and especially the partying options are more limited than on the other Gilis but Gili Meno does have some of the best beaches of the three Gilis and it offers something not many island retreats can these days: peace and quiet.
Still, there's plenty to see and do for anyone intent on exploring the beauty of this middle island. Here's a few suggestions…
Dive

Sea turtles are abundant in the waters around the Gilis, thanks to the islands' conservation efforts, and divers will also have the chance to swim with eels, white-tip reef sharks, sting rays, pigmy seahorses, and among a kaleidoscope of colorful fish.
There are over 25 fantastic dive spots scattered around the Gilis and Gili Meno is very close to some awesome dive spots. Make sure to check out:
Meno Wall: This one is a must-dive spot – make sure you sign up for the night diving. The Meno Wall runs from 5 meters down to 16 meters with a second wall running a bit deeper. You'll see a bunch of sea critters here from lobsters, huge sponge crabs, Spanish dancers, baby cuttlefish, Scorpion fish, and sleeping turtles.
Meno Bounty (aka Jubblies): On the south west side of Gili Meno, there's a 30 meter long sunken platform covered in hard and soft corals. It's an ideal dive spot to watch Scorpion fish, Stone fish, and Juvenile Batfish, among others.
Mirkos (aka Secret Reef): Mirkos is a really long sea mound stretching nearly the whole length of the island. This is a wonderful deep dive with beautiful coral.
Note: Visibility is not great around December and January, when it tends to rain heavily around the Gilis – if you're coming for diving, avoid these months.
Snorkel

For those who prefer to stay near the surface of the water, Gili Meno has several great snorkeling spots. The waters around Gili Meno are calmer than around Gili T and you can rent masks and fins from pretty much any cafe or hotel and head off to explore underwater.
The best places to snorkel is off the beach in front of the Good Heart Cafe on the northwestern shore as well as the west coast of Gili Meno. The east coast is not so recommended due to boat traffic.
Visit the Turtle Sanctuary

The Gilis have been called the 'turtle capital of the world' and you'll find that this is not an overstatement thanks to the islands' conservation efforts.
Green and loggerhead turtles are common around the waters of the Gilis. You can see them both in the water and visit them out of the water by swinging by the turtle sanctuary where you can check out baby turtles in their pools and learn more about these awesome creatures.
Check out the Bird Sanctuary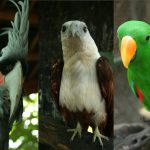 There's a bird sanctuary located in the center of Gili Meno where you could spend a few hours ooh-ing and aah-ing over the beautifully exotic birds in a pristine landscaped environment.
You'll spot macaws, flamingos, pelicans, cockatoos, eagles, parrots, and a whole lot more – including a crocodile, some deer, and a kangaroo. Random, yea?

Take a Leisurely Stroll

The coastal path of Gili Meno is a particularly beautiful walk and not to be missed. It'll only take you a little over an hour to walk the entire island.



Laze on the Beach

Gili Meno has the best beaches of all the Gilis – they're beautiful, uncrowded, and the horizon seems to stretch to infinity.
By far the most popular thing to do on this peaceful island is just sit back and relax.


source: http://indonesiad.com